| | | | |
| --- | --- | --- | --- |
| Board: | Basic Board $840 | Tack-up Board $1,015 | Shareboard $565 |
Basic Board includes daily stall cleaning; turnout; 2 to 3 feedings daily; arrangements for regular deworming and annual vaccinations using boarder's choice of veterinarian.
Full Service Board includes everything in basic board plus grooming; bathing; tacking/untacking (with 1 hour advance notice); tack wiped off; laundering saddle pads and leg wraps; clipping of ears, muzzle and bridle path; mane pulling; lunging; assisting veterinarian; and executing veterinarian instructions such as hand walking, soaking, warm/cold hosing, wrapping. Wraps and other materials (i.e. poultice, DMSO, Epsom salts, etc.) prescribed for treatment must be provided by boarder. Basic supplies like fly spray, shampoo, show sheen, hoof polish, clipper blades, saddle soap, and laundry detergent are included. Stalls with windows and the center aisle stalls are reserved for horses on full service.

Boarder Lessons & Training Rides:
$40 per 1/2 hour private session
$60 per 45-minute private session
Hours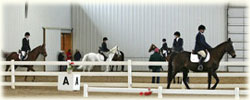 Closed Monday.
Tuesday, Wednesday & Thursday open 9 a.m. to 9 p.m.
Friday open 9 a.m. to 7 p.m.
Saturday, and Sunday open 9 a.m. to 5 p.m.
Arenas close 1/2 hour before barn closes.