Fields & Fences Equestrian Center was established in 1987 as part of the prestigious 600-acre horse community, Hunt Club Farms located in unincorporated Lake County, Illinois. Homes starting at $1 million are situated on lots ranging in size from 2 to 15 acres. Homeowners with 5 or more acres may keep horses on their property. The residents of these estates and boarders at Fields & Fences enjoy exclusive use of over 12 miles of well-maintained, fenced bridle trails that run through the 600-acre development.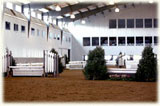 Anita Schadeck purchased the equestrian center from the developer of Hunt Club Farms in February 1995. Originally, Fields & Fences was a hunter/jumper facility but in 1996 when Anita started taking dressage lessons and realized the benefits of dressage for hunters, she started recruiting others to try dressage. Now Fields & Fences' boarders are primarily hunter/jumper and dressage riders with a few eventers and pleasure riders rounding out the group.
Fields & Fences has undergone several expansions to keep up with demand. The most recent expansion, which began in December 2003, is the most ambitious with the addition of 105 stalls, a second indoor riding arena and over 9,500 square feet of clubrooms.
Upon completion, Fields & Fences Equestrian Center will feature:
2 heated indoor riding arenas 60' x 271' and 100' x 300' (yes, that's the size of a football field) with automatic watering system.
4 enormous outdoor riding arenas with all-weather footing (180' x 250'; 180' x 240'; 150' x 250' and 70' x 210')
Turf grand prix/hunt field with 2 water jumps and bank jump.
Box stalls are 10' x 12', 10' x 14' or 12' x 12'
121 stalls for boarders; 70 stalls for horse shows.
26 pastures/paddocks with 6' lanes between each turnout.
12 miles of private, groomed bridle trail through 600 acres.
10 heated wash racks, 6 tack rooms, 2 changing rooms and 10 toilets.
Comfortable, heated and air conditioned 3-story clubrooms for each indoor arena with satellite TV, wireless internet, kitchenette and an elevator!
Fire detection system. Security cameras. Automatic fly/mosquito control systems.
Exercise classes for riders taught by a certified, personal trainer.


Fields & Fences hosts either a hunter/jumper or dressage/CT schooling show monthly during the summer months. With the new indoor arena, there are plans to offer USEF recognized dressage and hunter/jumper shows during the winter months.

For a closer look at our facility please visit our
photo gallery
»