Sara is certifed by the British Horse Society. With over 30 years of experience working as a horseback riding experience she coaches riders on local and national levels of competitions. She is the coach for the Northwestern University Equestrian Team which trains here at Fields & Fences.
Larry Oslay
Larry Oslay, a veteran of the horse business, started early competing successfully in the hunter/jumper A Circuit under the training of Gabor Foltenyi, Rickey Harris, and George Morris.

Previous work experience includes working for Doug Boyd and South Haven Farm, followed by working for Jill Knowles and Hidden Knoll Farm for 8 years. Since then he has gone on his own.

His philosophy is to communicate with students and their parents (when applicable) to establish realistic short and long term goals, and work on achieving them in the most safe and comfortable environment.

Currently, Larry is competing with all levels of students from Short Stirrup to Jumpers.


Christine McMillon
Christine McMillon is an ARIA Certified Instructor Level I Hunt.


Linda Shultz
Linda is a USDF Bronze and Silver Medalist and USDF Associate Instructor. She was a participant in the 2009 Young Dressage Horse Trainer's Symposium at Hassler Dressage and was invited to ride in the 2010 USEF Talent Search Clinic with Debbie McDonald at Gladstone, NJ as well as the Young Horse Training Session with her own gelding Dauntless B in 2013.

Originally from Illinois, Linda groomed for FEI trainer David DeWispelaere at the US Olympic trials with Sally Dinniny's gelding Figaro. Linda has trained with Jayne Ayers and Louise St. Amour. She currently works with Olympian Lendon Gray of Bedford, NY.

Linda works with adult amateurs and they inspired her to write the workout book Better Rider, Better Ride. Her goal is to take her four year old Dauntless B (Dacaprio X Liandra) bred by Bridlewood Hanoverians to the Markel Four Year Old Championships and on to Grand Prix. In 2010, he was ranked 8th in the USA for yearling colts and geldings and was Reserve Champion at the East Central Breeders' Finals.

Linda is currently accepting horses in training and new students


Hours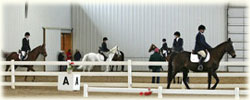 Closed Monday.
Tuesday, Wednesday & Thursday open 9 a.m. to 9 p.m.
Friday open 9 a.m. to 7 p.m.
Saturday, and Sunday open 9 a.m. to 5 p.m.
Arenas close 1/2 hour before barn closes.